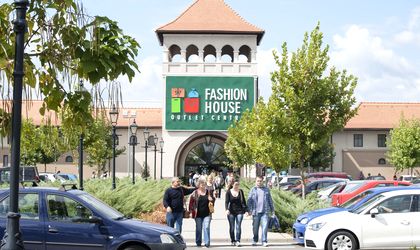 Two leading fashion brands, Levi's and Motor Jeans, signed lease agreements for a total occupied area of 329 square meters within FASHION HOUSE Outlet Centre Bucharest. The new store openings are scheduled for the first quarter of 2017.
The leasing process in FASHION HOUSE Outlet Centre Bucharest had a consistent evolution in 2016: With Levi's and Motor Jeans, the number of new brands that joined the scheme this year rises to 13, after Kenvelo, Desigual, Colin's, Triumph, Sport Vision, Issimo Home, R&R Boutique, Various Brands, U-Grow, Multibrand Street & Go and Land Mobile.
" As the local retail market evolves, the leading international and local brands need a professional solution to optimize stock and make additional profits. FASHION HOUSE Outlet Centre Bucharest is the only solution of this sort in Romania and, through the collaboration with top-tier brands, we will continue to support our partners and consolidate the centre's position as the best value-for-money shopping destination for fashion lovers," Brendon O'Reilly, managing director of the group.
Levi Strauss & Co. is one of the world's largest companies in jeans production. The company was founded in 1853, in San Francisco, California, USA and has become an icon for the authentic American fashion style, being present in over 110 countries all over the world. In Romania, Levi's operates in 8 stores and plans to open another 3 units in 2017 (including the outlet in FASHION HOUSE Bucharest). The new Levi's outlet store, with a shopping area of 156 sqm, is scheduled for opening in March.
Motor Jeans is the international denim clothes manufacturer that  became one of the country's most popular jeans brand. The company has a history of several decades and entered the local market in 1992, where it now operates a network of 10 stores. The 173 sqm Motor Jeans unit within FASHION HOUSE Bucharest, to be opened in January 2017, will be the brand's first outlet store in the country.
The recent agreements with Levi's and Motor Jeans follow FASHION HOUSE Group's joint efforts to secure the scheme's optimal portfolio of tenants, with the scope to boost sales and maintain a high customers' satisfaction level. FASHION HOUSE Outlet Centre Bucharest thus ends a spectacular year 2016, in which the centre not only increased consumer KPIs, but was also strongly addressed by a growing number of high-performing retailers, " adds Sorin Ioan Blaga, general manager Liebrecht & wooD Romania and Retail Operations director FASHION HOUSE Outlet Centre Bucharest.
Georgiana Bendre