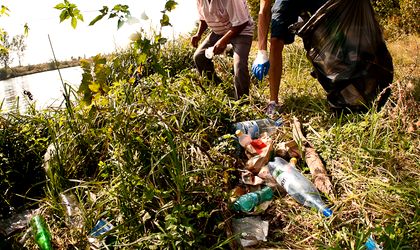 The fifth edition of Let's Do It Romania! volunteering cleaning event will be held in Romania and in the Republic of Moldova on September 24.
This year, the mapping of areas filled with waste will be possible through the Let's Do It, Romania! mobile phone app that can be downloaded for free for Iphone and Android. The volunteers who register waste areas using the app between July 18 and September 5 are automatically entered in the event's competition. The volunteers who register the biggest number of littered areas will win cameras, solar chargers, mobile phones, backpacking equipment and others valued at EUR 5000. All the littered spots will be uploaded online on the Waste Map and will be cleaned on September 24.
"It's been seven years since we've launched Let's Do It, Romania!, the symbol event of volunteering for our country. Until now, we've been able to convince over 1,200,000 Romanians to join to positively change the country, but also to highlight the littering problem," said Andrei Cosuleanu, executive director of Let's Do It, Romania!
"Our vision is of a litter-free Romania, that is our aim of every one of our projects," he added.
This year the Romanian Government will be directly involved in the project. The Ministry of Environment will contribute to the identification of littered areas, while the Ministry of National Education will implicate teachers and pupils in the National Cleaning Day. The Home Office, as well as the Ministry of Justice and the Ministry of Transport will also take part in the event.
"I want to congratulate the Let's Do It, Romania! association for this initiative. I think our country has a great need of these sort of actions that gets all those who want a cleaner country involved. We really want this tradition to continue until the management of Romanian waste will function normally and will push for a real recycling society," said Cristiana Palmer Pasca, Minister of Environment.
Until now, the Let's Do It, Romania! has managed to clean 305 littered areas, collecting over 24,000 tons of waste. Let's Do It, Romania! is part of the international community called Let's Do It, World!
Andreea Dulgheru