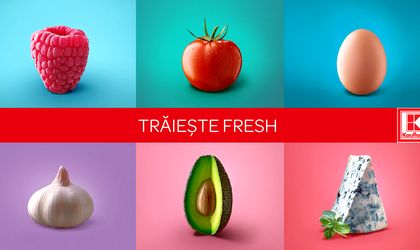 Leo Burnett Romania signs alongside Kaufland the "Live Fresh" manifesto that represents not only the new communication campaign of the retailer, but also an incentive for a new lifestyle.
"We are inviting the world to throw away the automatisms in favor of a fresh perspective that can bring them something new, a fresh thinking, and more ambition in life. To live every moment as fresh as possible, because every day plays a decisive role in our soul's structure," said Ada Musat, copywriter at Leo Burnett Romania.
In the same time, Kaufland Romania launched  the digital platform www.traiestefresh.ro, which focuses on the benefits of fresh foods.
The Leo Burnett Romania team that worked on this campaign comprised: Razvan Capanescu – Chief Creative Officer, Adina Teodorescu – Group Creative Director, Diana Papuc –  Group Creative Director, Ada Musat – Copywriter, Alexandru Nimurad  – Art Director, Cosmin Ezaru  – Senior Art Director, Mihai Mateescu – Digital Art Director, Dinu Gojan – Art Director, Alexandru Covrig – Art Director, Irina Carbunescu  – Senior Strategic Planner, Adela Sescu – Account Manager, Ioana Carp – Account Manager, Ioana Samoila – Social Media Manager, Andrei Florian – Digital Strategist, Dominic Timotin – Head of Development, Alexandru Nicolescu – Digital Project Manager.
The Kaufland team included: Irina Grigore – Marketing Director, Alina Golopenta – Acquisition Director, Alexandra Cirstea – Digital Manager.
Romanita Oprea