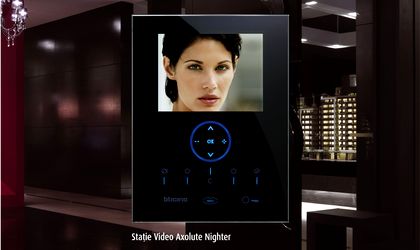 Electrical products and systems company Legrand opens next week in Bucharest an "intelligent" home showroom. My Home is a system that allows residents control lighting, shutters, music, air conditioning and other devices according to their own tastes and at the touch of a button or even remotely. It promises an increase in comfort, connectivity and safety at home as well as reduced maintenance costs.
The My Home technology costs EUR 40/sqm compared o EUR 25/sqm a normal electric system, say company representatives. There is also the option of choosing only the technology for lighting or sound with costs reaching on average EUR 800 – 1,000 for an entire house.
"In the future, such a system will become common and it will add value to any construction. Each of us has higher and higher expectations when it comes to comfort, safety, the control of our homes and My Home systems meet these expectations", explains Calin Pascalau, general manager of Legrand Romania.
Legrand Romania announced that it managed to increase its turnover to EUR 10 million this year. According to company representatives the local electric products market fell by 20 percent in 2010.
The My Home showroom is open between December 1 and December 14 at Baneasa Shopping City.
Simona Bazavan