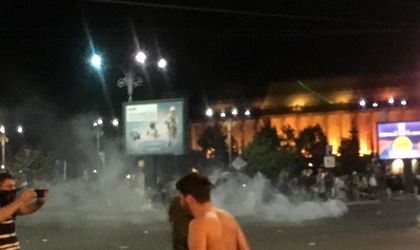 Laurenţiu Cazan, the coordinator of the gendarmes' action during the August 10 protest, said that the owner of the car from which violent protesters took bottles of "molotov" cocktails was identified and that research is currently underway.
"I was always informed by the commander acting on that area that they were being attacked with incendiary bottles. At some point in the field, I was informed that there is a car in the Mihalache area from which my teams saw these bottles being removed," said Major Laurentiu Cazan, deputy of the Gendarmerie General Public Service on Antena3 TV.
Asked whether they had identified who the car belonged to, Cazan replied that they have, but did not reveal the identity of the owner.
"During the restoration of public order, you saw that our mode of action was directed mainly to the Titulescu – Buzeşti area. There I also had the main problems with that barricade, those fires. (…) In the Ion Mihalache area, where our colleagues were working to remove the turbulent people, a car containing incandescent bottles was seen and I saw them taking bottles from that car to act," said Laurenţiu Cazan during a TVR1 appearance.