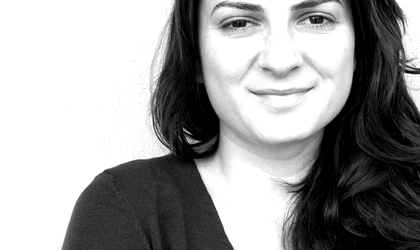 Advertising agency pastel has a new creative director, Laura Iane. She will coordinate the creative department and focus on developing the creative services provided by the agency. At the same time, Laura is responsible for the relevance of the creative concepts for the agency's local and regional campaigns. With Laura joining the pastel management team, the agency began a reorganizing process, meant to generate new business lines on the strategic level.
"Laura's arrival as a Creative Director happened in an important moment in the agency's evolution, as pastel is currently going through a strategic remodelling process, and Laura's experience perfectly matches this transformation. From our first discussion we felt that Laura fits pastel's DNA and her vision comes as a natural extension of the ideas we have regarding the future of the agency. Laura has integrated very quickly in the team and together we have already developed the first winning creative concepts for the campaigns signed by pastel." (Dana Nae Popa, managing director pastel)
"After a short and well-deserved break I chose pastel. There were three main reasons for my decision: 1- the chemistry I had with Dana from the first minutes of our conversation; 2 – "Timing is everything", it seems. I met Dana in a period when she chose to set a new beginning for the agency. It drew my attention, I liked how she chose to use the skills of the field's experts to make the right contribution to the strategic change process and I felt challenged by the idea of helping, of growing the agency's capabilities. 3 – I have a soft spot for Romanian entrepreneurs and the projects that are coming towards pastel," said Laura Iane, creative director pastel.
With more than 11 years of experience in advertising, Laura began her career in Saatchi&Saatchi, and she evolved to coordinate projects from a CO – creative director position at Centrade-Cheil. P&G has been one of her long-time clients, with local as well as regional projects. Other brands in her portfolio: Samsung, Rompetrol, Raiffeisen Bank, Enel, Dr. Oetker, Mondelez, Sensiblu, Toyota, Orange, Intersnack, Samusocial, United Way Romania. Some of the campaigns were awarded in the international competitions of the industry (Cannes Lions, New York Festival, Clio Awards, LIA, Golden Drum).
pastel is an integrated communication agency specialized in creating brand experiences. With more than 11 years of activity on the Romanian market and over 5,000 developed projects, the agency has a large portfolio of clients from different areas: auto, FMCG, services, industrial, etc., more than 65 percent of them being leading companies in their field. Founded in 2006, the agency has 25 permanent employees, most of them being with the company for over 5 years and having more than 10 years of experience in the field of communication. The agency is currently offering integrated communication services for campaigns that take place in Romania as well as in the region. The agency's current clients are Akzo Nobel, Beiersdorf, Bonduelle, Colgate-Palmolive Romania & Polonia, Dacia & Renault, Jacobs Douwe Egberts, JTI, kika Romania, Mega Image, Mondelez, Omega Pharma, Royal Canin Romania & Bulgaria, Sensiblu, Societe Generale European Business Services, SUN Plaza, TCC, TenarisSilcotub.
Romanita Oprea