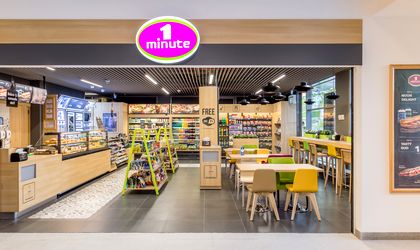 Lagardère Travel Retail has recently opened a new 1 Minute store in Bucharest, located in Iride Business Park.
The new 1 Minute store has an area of 104 sqm and the investment was EUR 90,000. It offers to business park employees and visitors fresh products. Every product is prepared in the store's kitchen: sandwiches, crostini, wraps, freshly baked pastry, fresh juice, deserts and coffee. Soft drinks and convenience products like tobacco, magazines and newspapers are also available.
This is the second 1 Minute store the company runs in Iride Business Park. It is a rebranding and extension of the Inmedio store area that was operating here since 2012.
The store has an indoor seating area as well and a terrace, while the open kitchen offers customers the opportunity to see how everything is prepared. In addition, there is a free Wi-Fi access.
1 Minute is a brand of Lagardère Travel Retail's international portfolio, using a fresh food & convenience concept. Currently, there are 14 stores under 1 Minute brand in the business centres in Bucharest.
Georgiana Bendre