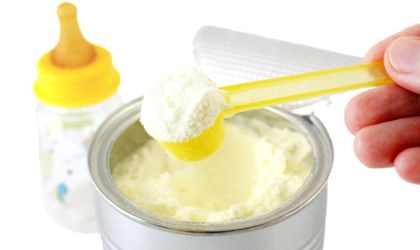 Popular dairy company Lactalis is recalling its baby milk formula products globally over fears of salmonella contamination. Agriculture Minister Petre Daea says that Romania has not received any official notification to recall Lactalis products from the internal market.
The information released by the French authority dealing with the issue (DGCCRF) includes Romania on the list of countries in Europe, Asia and Africa which may have received contaminated products. In France, more than 20 babies had salmonella infection, which led to authorities recalling three of Lactalis' baby formula products.
Petre Daea stated: "I saw the information, but if there had been a problem the rapid alert system would have automatically start working and within a few minutes all of Europe would have found out what was going on. I've spoken to the president of the Sanitary-Veterinary Authority and asked him to talk to his French counterpart and take any necessary action. For now there are no issues for Romania, but here's more proof that we should produce and eat our own products which we definitely know that we keep completely safe".
Daea added that he can't give any details about the recall of such products, but that authorities have reacted and everything is under control.
"I can't give any details because it's on another state's territory, and Romanian authorities don't currently have an official confirmation we can refer to", the Minister added.
Asked whether he has ordered inspections of products that enter the country as he had announced in a previous statement, Daea said that authorities always check things that come into the country through all the borders, as well as on the production and distribution chains, in order to prevent any issues for the Romanian consumer. These checks are more frequent during this time of year because there's more movement on the market, and a higher intention to purchase.
Representatives of the Sanitary-Veterinary Authority (ANSVSA) have also stated that until now Romania has not received any official notification about having to recall baby milk formula products manufactured by Lactalis.
In Romania, Lactalis is the market leader, after having bought dairy brands LaDorna, Albalact and Covalact, according to Agerpres.