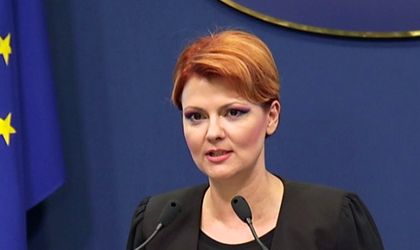 The minister of labor, Lia Olguta Vasilescu, says the removal of the minimum wage is out of question as such as move is not included in the governing program.
Her reaction came days after the minister of finance, Eugen Teodorovici, said that he would back the removal of the minimum wage from the private sector. The Romanian Businesspeople Association (AOAR) said it was ready to start a dialogue for the adoption of the minimum hourly wage instead of a monthly salary.
"Its excluded, excluded, excluded to eliminate the minimum wage. It's not excluded in the governing program. (…) Mister Teodorovici expressed his own opinion closer to the business environment. We are interested in the employee and what he/she takes home, because, if we leave a total nebula, in which the minimum wage doesn't exist anymore, in fact, I think, there are three countries in the European Union that don't have the minimum wage," said Vasilescu.
Romania has the third lowest gross minimum wage in European Union worth EUR 416, after Bulgaria with EUR 261, and Lithuania with EUR 400, according to a survey of professional services firm KPMG. A separate study revealed that almost half of all Romanian employees are paid the minimum wage.