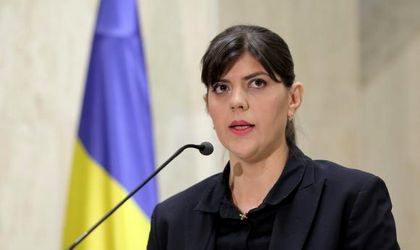 Chief prosecutor of the National Anti-Corruption Agency (DNA) said on Wednesday night that DNA prosecutors "do not falsify evidence" and they follow the law, and that she has no reason to resign following a number of accusations made by people who are defendants in DNA cases.
Kovesi said that she has a zero tolerance for corruption and non-professionalism in the DNA, and that whenever prosecutors break the law, which sometimes does happen, they are suspended from their roles and prosecuted according to the law. However, she noted, this does not mean that all the DNA prosecutors should be considered corrupt.
"In the last four years, DNA got its best results – over 70 officials, two prime ministers, ministers, deputies and senators were sent to court, proving that the law is equal for everyone," said Kovesi, adding that "lately we've been witnessing a desperate festival of criminals, who say things that are untrue or only partially true."
"The DNA is not a person, it is an institution. This attack is not about Kovesi, it is about the prosecutors who have been doing their jobs. It aims to weaken the Romanian state, humiliate the society and the Romanian people", the DNA chief stated.
"We're being attacked for doing our jobs, and the justice system has been under assault for more than a year. If we take a look at who's attacking, we'll see that it's convicted criminals, defendants, people who have money and resources and who want to ruin the credibility of justice, and trivialize corruption."
The scandal at DNA Ploiesti
Kovesi began her two-hour press conference last night with explanations regarding the controversy created by Vlad Cosma, who had the status of defendant and witness in a number of cases prosecuted by the DNA.
Cosma was convicted for influence peddling in a case in 2016, and the decision in the appeal of that decision is due to be made by the court next week. His father was also convicted by the first court in the same case. Cosma made several claims about prosecutors doing illegal acts in the case, but Kovesi pointed out that all his claims were rejected by judges in preliminary chambers.
Kovesi said that people from Cosma's entourage warned prosecutors at DNA Ploiesti last Friday about some recordings that will end up in the press and make the prosecutors in Cosma's case look guilty of falsifying and tampering with evidence.
Kovesi sees this as an attempt to intimidate the prosecutors, which they resisted "because they knew they had followed the law". She also said that prosecutors were asked to talk to the defendants and somehow "make peace", which they did not accept and as a result the defendants released the recordings, trying to make the prosecutors seem corrupt.
The DNA chief said that through their actions, the defendants revealed their own blackmailing strategy, and that prosecutors will continue to hold their ground as they did not break the law and that the same will be revealed by the Judiciary Inspection Body.
Vlad Cosma was already being prosecuted for blackmail in a case opened at the end of last year, and after this week's controversy a new report that suggested blackmail was filed by prosecutors, which was added to his existing case.