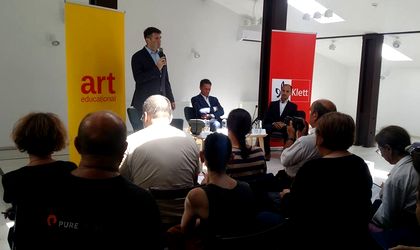 Klett Gruppe, one of the largest education-dedicated enterprises in Europe, has entered the Romanian market via a partnership with Romanian publishing house Editorial Art Group.
The new publishing house resulting from the partnership signed today, Art Klett, aims to become the leader of the local educational books market and the main producer of educational books in Central and Eastern Europe.
"Klett Gruppe is thrilled to have found an innovative and serious partner in Romania. Together with the Editorial Art Group we will invest in everything that is necessary so that teachers and students can reach their education goals and to succeed: from manuals in print to digital content and technology," Philipp Haussmann, CEO Klett Gruppe said.
"When we started the publishing house, 16 years ago, we started off with a goal and a belief. My goal was to change fundamentally the way children learn. I strongly believed that there are no limits to a child's learning abilities, if he or she has the proper instruments, made with passion and imagination. I a very happy that we have found a strong German partner, who shares the same goal and the same belief we started off with," Dan Iacob, Editorial Art Group General Director said.
The manuals and auxiliary materials produced as part of the partnership are designed for the 6-18 age group. The publishing house is also planning to enter the market for education materials for children below 6 years of age. Art Klett also plans to develop digital European manuals, that will feature over 400 multimedia apps. The manuals and the auxiliary materials will be developed by Romanian and foreign authors, using the 125 years of experience the group has in Germany, Europe's largest educational books market.
Klett Gruppe has 67 companies in 15 countries, including France, Spain, Croatia, Serbia and Bulgaria. It employs over 3,600 staff and in 2016 it recorded a turnover of EUR 537 million.