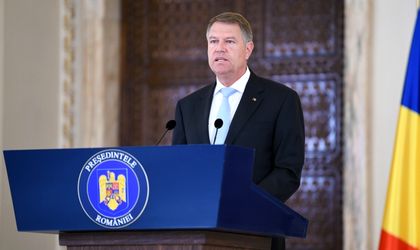 President Klaus Iohannis made a statement on Wednesday about Brexit, ensuring Romanian citizens that their rights will be protected after the UK exits the European Union. However, he warned that the Withdrawal Agreement would not be subject to renegociations. He also added that the EU is ready for all possible outcomes.
He also urged the government to urgently come up with solutions to resolve the rise in criminality that has occurred after the law for compensatory recourse was passed, which allowed hundreds of convicts to get out of prison on probation early.
The president's main statements:
On Brexit:
The result of the vote is unfortunate. I think the deal was a good one that guaranteed an orderly withdrawal of the UK and allowed us to build a good future relationship.
The question now is: what's next?
Two aspects need to be analysed: the UK government needs to clarify its position, we need to know what will happen next. There are still other procedures that can lead to the approval of this deal.
The EU27 are ready for other options as well. The EU27 are united, we don't have diverging approaches to Brexit.
This long-awaited agreement will not be renegotiated.
With this in mind, we're waiting for the UK government to position itself, but there's not need to panic or get into different scenarios.
On the other hand, many Romanians have relatives and friends in the UK and are asking questions. If the deal is passed, Romanians in the UK will have all their rights protected, it's the best solution. We also have solutions for other scenarios – nobody needs to worry.
On compensatory recourse law and rise in crime:
Many have been talking about convicts released early based on compensatory recourse because prison conditions are bad.
It must be stated clearly: the safety of Romanian citizens is non-negotiable.
We must draw some conclusions and come up with measures to allow regular people to feel safe.
I am asking the government to conduct a thorough analysis and come up with solutions. These solutions need to come from the government, from the Justice Ministry. The parliamentary procedure can be started quickly and legislation can be corrected.
The only unacceptable thing is for people to look for guilt instead of look for solutions.