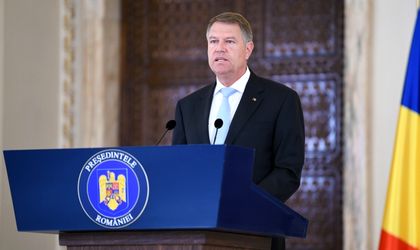 President Klaus Iohannis has signed the decrees announcing the vacancies in the positions of members of the government following the resignation of Paul Stanescu from the Development Ministry and Lucian Sova from the Transport Ministry. However, in a press conference today, the president also said that he would not accept the proposals made by prime minister Viorica Dancila for new ministers.
The prime minister recently announced that the president informed her that he would not accept her proposals – Lia Olguta Vasilescu for the Development Ministry and Mihai Draghici for Transport. "He did so without any explanation, proving that he wants to block the government's activity," Dancila said.
A decision by the Constitutional Court on December 19 shows that the head of state had to immediately issue decrees to find the vacancy of the two ministerial positions and to respond reasonably on the issue of the appointments of new ministers.
President Klaus Iohannis came out today in a press conference to explain his recent decisions:
"I am certain that we will do well at the helm of the Council of European Union. The first elections are in May, for the European Parliament, and it would be good if as many people as possible vote in these elections.

Then there will be presidential elections and I will enter the race for a new term. I'm not afraid of any competitor, I'm optimistic about winning the election. It is clear that the PNL is supporting me for a second term, as it is the party I came from.

Yesterday I signed the dismissal decrees and they were published in the Official Gazette. I have not yet formed a response to the rejection of the ministry proposals, but I will publish the motivation for the refusal by the middle of next week.

We do not have a draft budget yet. Instead of dealing with the budget, the government is in charge of changing the ANAF bosses, which tells me that there is a problem with budgeting this year.

I will not dismiss General Prosecutor Augustin Lazar. He's doing a very good job, I'm happy with his work. The so-called assessment made by the Justice minister does not meet the rigors of the law."