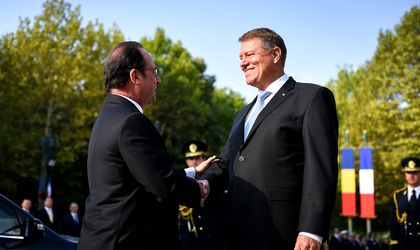 President Klaus Iohannis said in a joint press statement with his French counterpart Francois Hollande that Romania is acting as a "de facto" member of Schengen and that France in backing the country's efforts to get accepted in the free circulation space.
Hollande said that it should be see how the "Romanian airports can bring a contribution to Schengen". The French head of state cited Romania's move to implement the EU Passenger Name Record (PNR) registry, as one of the ways to combat terrorism across Europe.
Romania has been trying since 2011 to get into Schengen, but failed to secure the political support from France, Germany and The Netherlands. A two-step approach was brought into discussion by local policymakers, which would see the airports get accepted first in the space, followed by the terrestrial borders. The European Commission, the executive arm of the EU, is a strong supporter of Romania's accession to Schengen.
"On Schengen, Romania is supported by France. I have discussed today with president Hollande and I think that this action is included in a European action," said Iohannis. "Romania is acting as a de facto member of Schengen Space. Thus, it is in the benefit of the EU for Romania to bring its own expertize in this space. Of course, this can't be done all at once due to practical reasons and following the statements of president Hollande, we have to take action in Brussels so that everybody can benefit from the security of Romanian airports," said the Romanian head of state.
Ovidiu Posirca