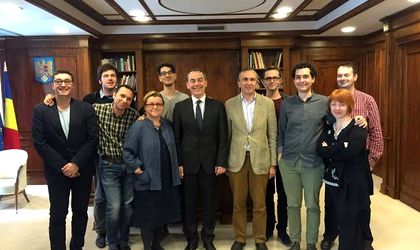 The minister of culture, Vlad Alexandrescu, said Wednesday he was quitting his job, citing heavy resistance to reform in cultural institutions.
Alexandrescu published his resignation on his Facebook page, where he also posted a picture of him together with the team that had helped him during the 6 months he had spent in government.
"During my short tenure, I was first of all interested in restoring the credibility and importance that the Ministry of Culture deserves in a European modern society," said Alexandrescu in the letter.
He added that he tried to bring a new vision in the management of public of cultural institutions that was "stiffened and lethargic".
Alexandrescu also outlined some of the accomplishments of his mandate.
He has called for clear regulation regarding the restoration of national patrimony buildings and has created the first financing mechanism through which the state can buy works of art.
During his mandate, the Ministry of Culture added Rosia Montana on the tentative list for UNESCO World Heritage sites.
He also mentioned some of the initiatives undertaken by the Ministry in the cinema industry.
Alexandrescu underlined the fact reforms need to continue in this Ministry. He is the third minister that resigned from the government is less than a month. New ministers were appointed recently at the Ministry of Labor and the Ministry of EU funds.
Business Review had spoken with the minister of culture last month to find out more about the government's plan to save endangered patrimony buildings.
Special report: Bucharest's silent tragedy – patrimony buildings | Who is saving them nationwide
Ovidiu Posirca