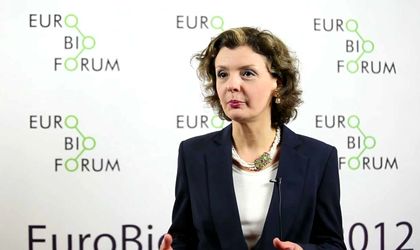 The European Commission, the executive arm of the EU, has announced on Wednesday the appointment of four new deputy directors-general. Among them, there is a Romanian.
Ruxandra Draghia-Akli, who has been working for the EC since 2009 in the Research & Innovation department, will get a senior role within the European institution.
Draghia-Akli has spent nearly 20 years as a medical doctor and researcher in Romania France and the US.
She had previously worked as vice-president of research at a biotechnology research company (VGX Pharmaceuticals and VGX Animal Health).
In the Commission, the Romanian is currently director health in DG Research and Innovation. She is managing some 150 people and a budget of around EUR 1.3 billion yearly.
Draghia received an MD from Carol Davilla Medical School and a PhD in human genetics from the Romanian Academy of Medical Sciences. She has also completed a doctoral fellowship at the University of Rene Descartes in Paris and a post-doctoral training at Baylor College of Medicine, Houston, Texas, USA, and served as faculty at BCM, according to her CV.
The other people that got the promotion are Bulgarian Charlina Vitcheva (DG Joint Research Centre), Portuguese Mario Campolargo (Informatics department – DG DIGIT) and Portuguese Carlos Alegria (department for Interpretation – DG SCIC).
Draghia-Akli will start working in her new role of deputy director-general of DG RTD as of September 1. The other three people will assume their new positions at the same time.
Ovidiu Posirca