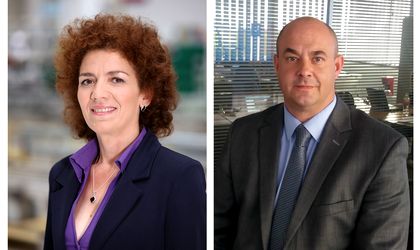 Starting with June, Renault Group has appointed Ioana Manda as the new director of Technical Center Titu and Graham Lawrence Aylett as the new executive director of the logistics direction from Mioveni.
Manda will lead the Technical Center Titu and will replace Anica Muntean, who becomes director of project within Renault Group Romania.
Manda started her career at Dacia in 1983, where she worked as a sub engineer and manager of technology group, team leader, leader of the metrology service, department leader of mechanical quality, department leader of gear boxes production and department leader of Dacia vehicles quality factory. She graduated from the Bucharest Polytechnic Institute.
Meanwhile, Aylettis is replacing Stefan Gaibu who will become the project leader of logistics operations Logistics Alliance Europe Corporate at Renault in France.
Aylett (43) has British origins and studied logistics and supply chain management. He has a wide experience in auto logistics obtained at the spare parts center Renault-Nissan from Lutterworth, UK, where he started his activity in 1991. Until 2010, he was project leader and leader at the logistics center. Afterwards, Aylett joined Renault Group Romania as a director of spare parts center from Oarja.
Opened in 2010, the Technical Center Titu is responsible for the vehicle and mechanical parts testing from different phases of the projects from the Global Access range. It is part of Renault Technologie Roumanie, the engineering center of Renault.
The logistics direction Romania is situated on the industrial platform Mioveni and ensures the dispatching of vehicles spare parts from Dacia Renault and Nissan range to the factories from Renault-Nissan alliance from the world as well as the dispatching of finished vehicles from Romania and to the export to the trade network.
Georgiana Bendre