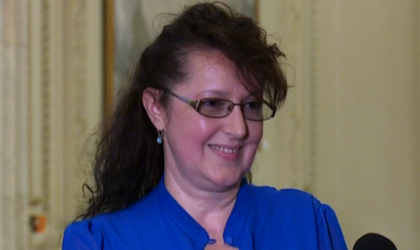 Irina Radu is the new president-director general of SRTv, according to Agerpres. She was voted in by the Parliament plenary with 304 votes for and 8 against.
Radu has a bachelor's degree in Letters and has followed a number of specialisations: Management of Relations with Clients and Buyers, Human Resources Management, and General Management at the Open University Business School; Journalism and Communications at the California State University, and Journalism at the Thomson British Foundation.
She has experience within TVR, first as editor-presenter for TVR Iasi, producer and presenter of TVR Journal, chief editor of News, and programme maker.
Since 2013, she has been the coordinator with director's attributions for TVR's Programme Division. In 2004, she was director of the TVR1 channel. She was also interim director of the TVR2 channel for a short period, Special Events director, and chief editor for the Children-Youth Editorial Office.
Radu was also the general producer of the Cerbul de Aur (Golden Stag) Festival in 2000 and 2001, and in 2003, 2004 and 2005 she was the festival director. Between 1998-2002 she was a member of the Administrative Council of the Romanian Television.
In 2000, she received the APTR award for the "Culise (Behind the scene)" programme, and in 2003 for the Cerbul de Aur Festival. In 2001, she received the World Vision award for reporting.
Andreea Tint