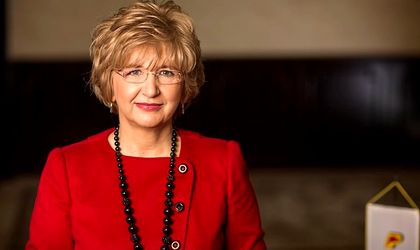 Austrian oil major OMV Petrom has appointed a new CEO, following a meeting of the Supervisory Board held on Tuesday.
Mariana Gheorghe will step down after more than a decade at the helm of the company. She will be replaced by Christina Verchere, 46, for the remaining term of Gheorghe's mandate which ends on April 16, 2019.
Verchere accepted her appointment and she will assume the position depending on her availability, at the latest with effect from May 21, 2018.
Prior to the Supervisory Board meeting today, Mariana Gheorghe waived her mandate as president of the Executive Board and CEO of OMV Petrom. Her waiver shall become effective on the date when her successor takes office, but in any event on May 20, 2018, at the latest, according to a company statement.
"Christina Verchere's selection came after a comprehensive assessment of internal and external candidates
led by the Supervisory Board. In the past decade, OMV Petrom has transformed into an international competitive
and highly profitable company under the leadership of Mariana Gheorghe," said Rainer Seele, president of the Supervisory Board of OMV Petrom and CEO of OMV Group.
Verchere started her career in 1993 and has spent over 20 years with BP, where she held numerous leadership positions in the UK, the US as well as in Canada. Since 2014 she has been the Regional President of the Asia Pacific region, located in Jakarta, Indonesia.
The new CEO studied Economics at the University of Aberdeen.
The price for one OMV Petrom share was up 0.5 percent to RON 0.3025 on Tuesday trading on the BVB.