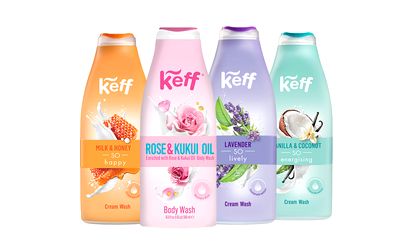 Starting with October, Sano International distributes on the Romanian market the brand of shower gels for young people and teenagers, Keff. Launched in 1992, in Israel, Keff is a leader in the bath and shower products segment in its home country.
Keff shower gels come in a wide range of ice cream flavors, such as Jelly Beans, Cookies & Cream, Fluffy Marshmallow, Mango Sorbet and Salty Caramel. It is characterized by an intensely moisturizing formula, enriched with shea butter, vitamin E and aloe vera, leaves the skin clean and deliciously fragrant, throughout the day.
In addition, fans of classic flavors can also enjoy a selection of 4 products, including Vanilla & Coconut, Milk & Honey, Lavender and Rose & Kukui Oil. These products offer gentle cleansing and silky, invigorated skin all day long.
"The Keff brand aims to serve a segment of the public that, currently, in Romania, is not covered and to offer bath products created especially for Generation Z members. Thus, we pay more attention to an audience with very specific desires, which wants to turn a shower or a bath an experience", says Denisa Marculescu, Marketing Manager of Sano Romania.
Andra Gogan – the image of Keff shower gels
The image of Keff shower gels is Andra Gogan, the influencer with the most followers on TikTok (8.3 million). The famous content creator, recognized among teenagers and parents, for her videos that garner millions of likes online, created the choreography and lyrics of the song from the first TV spot Keff.
"For the Keff team it was extremely important to identify an influencer with whom we can associate our brand, a person who is known and appreciated by our target audience, Generation Z, but also by their parents, be they Millennials or members of Generation X. Andra is a fresh person, very talented, with a wonderful energy. She has a good mix of creativity, non-conformity and quality orientation, and all these qualities are found in the values ​​and, implicitly, in Keff shower gels", said Denisa Marculescu, Marketing Manager Sano Romania.
It is for the first time, in Romania, when a brand builds a classic advertising campaign, of such magnitude, around a star created on TikTok.
To support the launch campaign and support retailers and online stores, Keff and Andra Gogan will jointly launch a challenge on TikTok. The 23-year-old artist, who holds two world records for "The longest live concert given by a child" (3 hours and 20 minutes – 55 songs, with her brother, Răzvan Gogan) and "The most CDs released by a child "(16 albums), has already launched a challenge to her TikTok community, inviting her followers to reproduce her dance and post it with the hashtag #KeffDeBaie.
The #KeffDeBaie challenge focuses on redefining the morning shower, which, thus, becomes an experience that generates energy and good vibes. To bring it closer to the young audience, the challenge will be supported online by well-known and creative influencers, who will share their morning rituals, showing the audience how to start their day, with sports, breakfast and much #KeffDeBaie. Among the TikTokers who responded to Keff's challenge are Ana Beregoi, Adina Marina, Alexandra Iosif, Oana Zara and Flavia Barbu.
By A.M. Filip