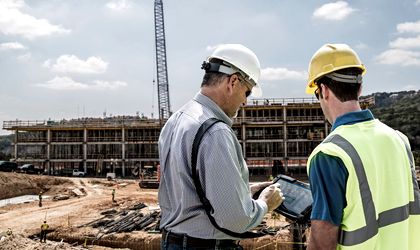 K Group, a consortium of companies, opened Welcome Home the first real estate project management company addressing individuals.
The new company aims to shorten the construction time for homes built privately and to save time for clients, by taking over the entire supervising activity. The new business was launched with an investment of EUR 20,000 and targets an annual turnover of EUR 250,000 in its first year.
"At the last editions of our real estate fairs we had done a study among our participants and the main conclusions were that the clients allocate between two and three years to build their own homes and lose at least 520 hours per year during this process from selecting the plot of land, meetings with the designer, supervising the contractor and other suppliers. We have opened Welcome Home with a clear target to shorten the construction period and save clients' time," Dora Patrascu, PR Manager within K Group explains.
The project management company offers services for Bucharest & Ilfov and can take over the whole process or just a part of it: identifying the plot of land (selection of offers according to the budget, surface and desired area), design (selection of an architectural plan from a data base or custom design), papers (documents for the land buying, urbanism certificate, geo-technical study, licenses and construction authorization), the contract with general contractor and supervising the construction stages, interior design project, garden landscape and final cleaning.
The clients don't have any extra costs as the agency's fee is paid directly by the services suppliers.
K Group portfolio includes a consortium of companies active in the event planning sector, with an annual group turnover of EUR 2.5 million.
K Group's history goes back 19 years when it started Bon Mariage, the first full service wedding planning firm. In 2007 it started to organize Mariage Fest wedding fair which currently holds three editions per year, with an average of 7,500 visitors at each edition.
Since 2012, K Group organizes the Auto Moto Salon, a complex event with a traffic of 50,000 people. With Salonul Imobiliar (the Real Estate Fair), the company closes the circle of events addressing the most important moments in the life of a family: wedding, car and home acquisition. Starting this year, a new event was added to the group's portfolio: the Wine & Street Food event.