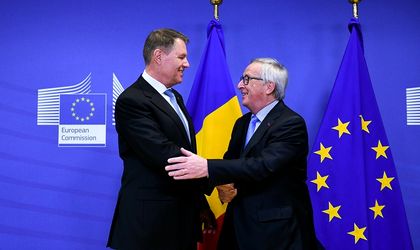 President Klaus Iohannis and the president of the European Commission, Jean-Claude Juncker, held a common press conference after a meeting in Brussels today where they discussed the issues of justice and anti-corruption in Romania, as well as Romania's upcoming presidency of the EU Council.
Jean-Claude Juncker stated that he is optimistic about Romania's EU Council presidency. He continued by talking about the MCV, saying that he wants it to be ended in Romania. Juncker promised that the Commission will continue to fight for Romania's place in the Schengen area, as that is where the country belongs.
On the rule of law in Romania, Juncker said that the country has made great progress and that it is in an "acceptable" stage at the moment, but that the Commission will not accept a backtracking from Romania, as it needs to be an irreversible process.
He added that he is very well-informed about the decisions concerning the rule of law, and that the Romanian justice system is working, which cannot be said about all member states.
Juncker warned that if the new justice laws voted by parliament will remain in the same form, then discussions around the removal of MCV and membership in the Schengen will be put in a different light. However, he added that Romania is not yet at risk of Article 7 sanctions.
Klaus Iohannis stated that he believes Romania has a major problem with the justice laws and the penal codes, but that it's a problem which needs to be resolved inside the country. "I am optimistic about the final resolution, now we're in an intermediary phase. My expectation is that we'll end up with laws which take into account decisions by the Constitutional Court and which strengthen the independence of the judiciary. The independence of Romanian justice is intangible, it is something in which I will be completely involved, and I will do anything a president can do for things to remain that way", Iohannis said.