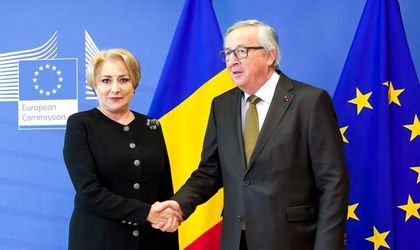 The president of the European Commission, Jean-Claude Juncker, held a common press conference with Viorica Dancila and Commissioner Corina Cretu, where he stated his conviction that Romania should definitely be part of the Schengen area.  
Juncker highlighted Romania's big responsibility as it takes over the presidency of the European Council next year. He also pointed out that since PM Dancila was a MEP until recently, "Europe has no secrets" for her.
The EC president also referred to the frequent governmental changes in Romania: "Indeed, it is the fifth prime-minister I've welcomed here since the beginning of my term and we hope that this cycle will stop and that PM Dancila will stay in her position for longer."
Jean-Claude Juncker also mentioned the post-Brexit Summit in Sibiu, where leaders should determine the most important financial perspectives.
On the subject of the Cooperation and Verification Mechanism (MCV) for Bulgaria and Romania, Juncker said that it should be over before the end of his term.