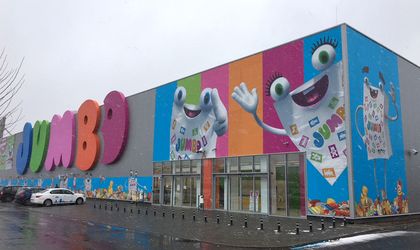 Jumbo, the Greek toys retailer, has opened a new store within West Park Retail, one of the most important commercial destinations in Bucharest, located in Militari district. This is the first store opened by Jumbo in the western part of Bucharest. The company operates a network of 74 stores, 51 of which are located in Greece, 5 in Cyprus, 9 in Bulgaria and 9 in Romania.
The new Jumbo store in West Park retail has a built area of 11,460 sq.m., comprised in two levels, and increases the retail area of West Park Retail to almost 86,000 sq.m.
Patrick Van Den Bossche, managing director Liebrecht & wooD, says: "We are enthusiastic that Jumbo chose West Park Retail. This is yet another important partner that completes the offer within our retail park and adds new retail functions to the project, which will be greatly valued by both tenants and customers."
Sorin Ioan Blaga, General Manager Liebrecht & wooD Romania concludes: "West Park Retail is strengthening its position as an attractive shopping and lifestyle destination in the capital city. We invested approximately 5 million Euros in the new space operated by Jumbo and we continue to invest, so that new commercial functionalities will be added to the scheme in the near future."
The agreement with Jumbo marks a new step ahead in the development strategy of West Park Retail. The location went through a rebranding process in 2015.
Delivered in 2008, West Park Retail is located a 20-minute drive from Bucharest city centre and enjoys a great visibility and direct access from the adjacent A1 highway. It comprises FASHION HOUSE Outlet Centre, totalling 16,000 sq.m. GLA, as well as other big-box tenants.
West Park Retail is a development of Liebrecht & wooD, an European real estate developer with a history of over 25 years, that operates in Poland, Romania and Russia, where it has developed office, retail and warehouse project with a total area of almost half a million square meters.