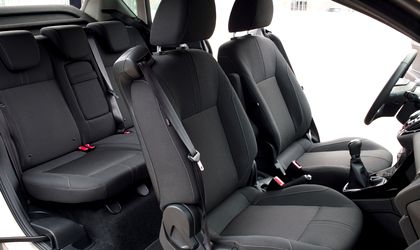 American manufacturer Johnson Controls has started to supply car seats for the Ford B-MAX, from its seat facility in the Romanian city of Craiova, nearby the Ford plant where the B-MAX is produced.
Johnson Controls developed the front seats with integrated seatbelt mountings, which were previously found only in sporty coupes and convertibles. The seats can be folded over flat to create additional cargo space.
"Johnson Controls has developed an innovative seating system for the equally innovative Ford B-MAX that is both sporty and elegant. We are proud to contribute to the value of this new minivan with our expertise," said Beda Bolzenius, president of Johnson Controls Automotive Experience.
The company also produces the metal structures for the front and rear seats, which offer a permanent engagement latch for the minivan. This feature increases passenger safety and was previously found only in higher vehicle segments.
Johnson Controls, a leader in automotive seating, interiors and electronics, can supply a complete seating system from its manufacturing units in Romania.
The company opened this January a seat plant in Craiova to supply the Ford plant via a just-in-time process, making the production cycle more efficient.
The metal components are made in the former C.Rob.Hammerstein plant in Jimbolia, while the seat pads are made in the former Spumotim factory in Timisoara. Meanwhile, the seat covers are made in Pitesti.
Ovidiu Posirca