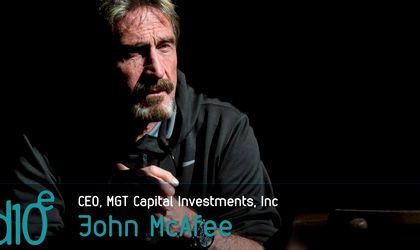 Leading decentralization conference d10e opened in Bucharest on February 21. The first of the two day conference kicked off with a keynote opening speech by John McAfee, creator of the first commercial antivirus software, and presentation by leading decentralization advocates.
"We are not decentralizing governments, we are decentralizing currencies," said Mike Costache, Co-Chair d10e in his welcoming remarks. His speech was followed by that of Minister of Economy Alexandru Petrescu, who, in his opening remarks, invited investors to consider Romania as a business destination, describing the country as "an island of stability in this part of the world."
"We have a lot of entrepreneurs. Romania is the place to do business for high technology. From my point of view, I have a clear path. I want to transit from exporting raw materials, to exporting high added value products. We are aware of our shortcomings," the minister said, saying Romania's priorities are to invest in infrastructure, establish a development sovereign fund and invest in the defense sector. "Think of Romania as a way of entering Europe. You will find the right people. Let's make Romania the place where you can be confident you can start a business," Petrescu concluded.
McAfee : "In Romania, you have the best hackers"
In his keynote opening, John McAfee, creator of the first commercial antivirus software, cautioned against the threat of overlooking cyber security. "Secure systems are built on non-nsecure technology," he told the audience. "We didn't dream we would be carrying around devices that are spy on us, that we are paying for. There is a light and a dark side to everything. We are joyful and loving, full of grace, but also greedy, fearful, a mixed bag and the world we are creating now with blockchain, crypto-currency has both sides of us. While we are developing things to help the world become a better place, there is another side that uses this to steal our identity, take compromising photos to perhaps blackmail us. There is a growing group of hackers, not necessarily nation states," McAfee said, adding that "Romania could be the Silicon Valley of the world – you have the best hackers." 
Crystal-Rose Pierce: "Let a robot do the sh*t work"
"In just over 200 years we have managed to centralize jobs, we've centralized consumption," Crystal-Rose Pierce said. "When something is centralized, it is owned by someone.You feel like a tribe, a community, but what you can own is through consumption. We own lots of stuff. We are centralizing our home, car. The sharing economy means to share a home, by renting a room or sharing a car with someone who doesn't own one and does not want one. Why don't I rent my home, car, and travel the world? We have discovered experiences are more valuable than ownership. We've all become entrepreneurs through the sharing economy," Crystal-Rose Pierce said.
Sergiu Negut: What intelligence do we want to use?
In his talk, Romanian entrepreneur and business angel Sergiu Negut made a case for the use of automated work. To illustrate his point, Negut recalled one of his experiences with dealing with a Romanian public sector employee, whose job tasks seemed so simplified and mechanic that it deprived her of any decision-making powers. "She was doing the job of a robot, without paying someone who has to take a holiday, get sick would not be happy with the current salary and want more. There is this question: What intelligence do we want to use? Find the wave of change, he urged the audience. 
d10e is the leading global conference on decentralization. Past editions took place in Amsterdam, San Francisco and Singapore. The 2017 edition (February 21-22), the event's sixth, was the first to take place in Eastern Europe.
Georgeta Gheorghe