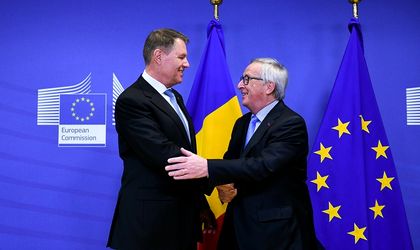 European Commission President Jean-Claude Juncker met with president Klaus Iohannis on Friday morning and the two made short press statements ahead of their meeting. 
Later today, Jean-Claude Juncker is scheduled to meet with PM Viorica Dancila. The two will also hold a joint press conference.
Juncker said that Romania's EU Presidency will take place "at a difficult time for the EU" and that Romania needs national cohesion and consensus in order to have a successful Presidency.
"The Romanian Presidency will have to take care of the EU's stability as the UK leaves the bloc. I have all the trust in Romanian authorities, and in you, Mr President, that you will know how to manage this difficult, even tragic period. But democracy is what it is and we can't stop those who want to leave us. It will be a stepping stone. The Romanian Presidency needs to ensure stability and bring us new hope," Juncker said.
He also added that Romania needs to ensure the proper conditions for the European Parliament elections, without interference from other areas: "It will be a Presidency of democracy because we will have European elections during this period. We will have to be careful that these elections are carried out as properly as possible in order to defend ourselves from interference from other areas."
As he welcomed Juncker, Klaus Iohannis also spoke about Romania's upcoming challenges as it holds the EU presidency:
"We want to use this opportunity to grow stronger together and build a stronger European Union. The European Commission is an essential partner. Romania fully shares the pro-European approach, and it will continue to support the European project. Joint efforts must be focused on avoiding discrepancy between member states. I am certain we can contribute to a better EU," said Iohannis.
"Discussions about the future of Europe will be at the top of the European agenda during our Presidency and the Sibiu summit in May will be the stepping stone of our Presidency," he added.