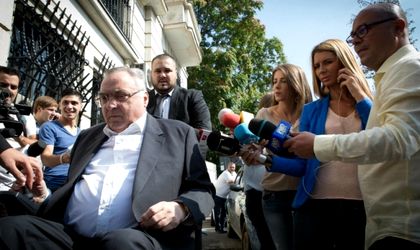 The Romanian millionaire Dan Adamescu, who had holdings in the media, financial  and real estate sectors, has died at 68.
Adamescu passed away in the night between Monday and Tuesday in a private hospital, where he was being treated under guard.
The news of his death came from his daughter-in-law and was also confirmed by representatives of newspaper Romania libera that he owned, according to News.ro. The Adamescu family confirmed the tragic death of the businessman in a letter.
According to Adamescu's lawyer, the millionaire has probably died due to septicaemia.
He was the founder of Nova Group, which holds stakes in Unirea Shopping Center, InterContinental Hotel Bucharest and other office buildings. Adamescu was a German citizen of Romanian origin. According to the PR of his family, he spent 11 years in Germany, where he started to build his business empire.
The businessman had been in jail since May 2016, when he was sentenced to four years and four months in prison after he was accused of having bribed judges.
His daughter-in-law, Adriana Constantinescu, was saying in late December 2016, that the millionaire risks death because he got a lot of infections following a knee surgery.
Adamescu had asked judges in late 2016 to let him get out of jail sooner because of his age and due to the fact that he was already investigated while in preventive arrest. However, the court rejected his request and he would have been allowed to ask for this measure again in February 2017.
The billionaire, whose insurance firm Astra went bankrupt, was suffering from 15 disease, according to the PR of his family.
In 2015, Forbes estimated that his fortune amounted to around EUR 550 million.
What happens to Adamescu's empire?
He is survived by his son Alexander Adamescu, also a target for romanian authorities.
Alexander Adamescu is living in London and he is a writer. Following his father's death, he will probably takes the reins of The Nova Group. Meanwhile, the group has started arbitration procedures against the Romanian state.
Last year, the Adamescu family has claimed that insurer Astra was bankrupted by the Romanian state and that Dan Adamescu was a target of authorities.
Controversial businessman and politician and businessman Sebastian Ghita, who was wanted by authorities, recently said in one of the recorded tapes that all the files involving media owners were "rigged". He said this would apply to Adamescu's case, and also for him and for Dan Voiculescu, the founder of Intact Media Group, and Adrian Sarbu, the owner of Mediafax Group.
Ovidiu Posirca