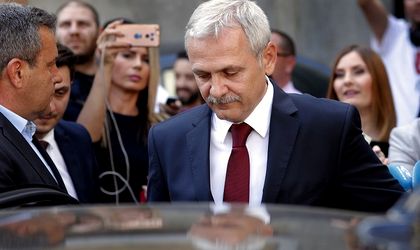 The United States Department of State has released a Public Designation banning Romania's Liviu Dragnea, the former president of ruling party PSD, as well as his immediate family members, from entering the United States due to involvement in "significant corruption". 
Dragnea is currently in prison after having been sentenced to 3.5 years in prison in May for inciting abuse in office in the DGASPC Teleorman case, where two employees were falsely hired at the Child Protection Services Agency in the county, while they were actually working for the local PSD organisation and still collecting their salaries from the Agency. At the time, Liviu Dragnea was the president of PSD Teleorman.
The former PSD leader had boasted about his presence at an inauguration party for US President Donald Trump in January 2017, where he managed to get his picture taken while shaking Trump's hand. The NY Times wrote in 2018 that Dragnea and then-PM Sorin Grindeanu, among other foreign leaders, had gained access to one of the events during inauguration week through Republican Party fundraiser Elliot Broidy, who was later involved in a Grand Jury investigation looking into the way he used his position as VP of the Trump inauguration committee to conduct business with foreign leaders to benefit his defense company Circinus by trading access to Trump during inauguration events.
The State Department's full statement on the Dragnea family's US ban:
"Secretary Michael R. Pompeo is publicly designating the former Speaker of the Romanian Chamber of Deputies, Liviu Nicolae Dragnea, due to his involvement in significant corruption.  This designation is made under Section 7031(c) of the Department of State, Foreign Operations, and Related Programs Appropriations Act, 2019 (Div. F, P.L. 116-6).  Section 7031(c) provides that, in cases where the Secretary of State has credible information that officials of foreign governments have been involved in significant corruption, those individuals and their immediate family members are ineligible for entry into the United States.
The law also requires the Secretary of State to publicly or privately designate such officials and their immediate family members.  In addition to the designation of Mr. Dragnea, the Secretary is also publicly designating Mr. Dragnea's two children, Valentin Ştefan Dragnea and Maria Alexandra Dragnea.
Today's action sends a strong signal that the United States is committed to fighting corruption and supporting the rule of law in Romania."