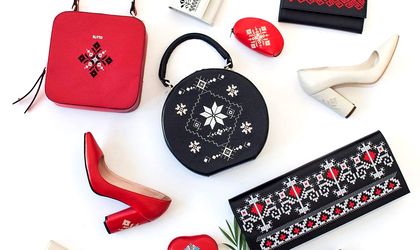 Iutta is celebrating 5 years of embroidering authentic Romanian stories with an anniversary event which is taking place at the Artmark Galleries at 7pm on Tuesday, April 17. To mark the occasion, the brand will also launch a new collection that commemorates its beginnings: bags, shoes and accessories with baroque motifs called the Royal Longing.
Those who followed Iutta since day one will have the chance to remember Efflorescent Spirit, its first collection based on traditional architecture and folk costumes, also present at the event. What makes the collection so special is that it was created by the founder and designer Nicoleta with his father, who is a sculptor. She inspired herself from old sketches that were transformed into distinctive elements for the design of each piece.
The Royal Longing, with its baroque motifs, marks the first stage of Iutta's evolution and displays symbols of the brand's revival, and the fantasy and artistic sensitivity of the details are seducing viewers' senses. They will be embroidered on bags, shoes and accessories that introduce diversity and colour to the world of those who experience the joy of wearing Iutta.
The evening will kick-off with recalling Iutta's key moments, while the guests will be invited to a session of wine tasting. They will also enjoy a limited range of accessories with the brand's beloved motifs, which will be offered during the night to be worn with pride throughout the Romanian Centenary Celebration.
"I am extremely happy and grateful for these 5 years with Iutta. Although when I decided to follow my dreams I knew clearly what to do, the whole experience exceeded my expectations. We now have a wonderful team and a close-knit community that travels with Iutta everywhere in the world and we're looking forward to celebrating this special moment together," says Nicoleta Chirica, founder and designer of Iutta.
To sign up, please send an email to olivia@iutta.com with the title RSVP by Monday 16 April.