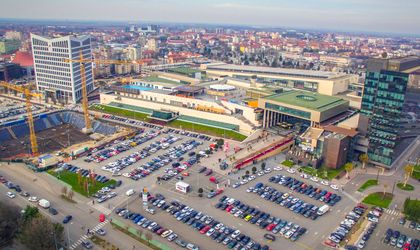 The IULIUS Company completed a new office building spanning on over 13,000 sqm in Openville Timisoara, the mixed-use project the company develops together with Atterbury Europe in the vicinity of Iulius Mall. United Business Center 1 (UBC 1) is the second building opened in Timisoara in 2017, after UBC 2 (18,000 sqm) opened in January. Following this latest achievement, the total office area delivered by IULIUS on the local market over a single year now adds up to 31,000 sqm.
Openville Timisoara will be the business hub of the western part of Romania. Works are currently underway in the project for the third office building – UBC 3 (19,000 sqm), which will be completed in 2018. Visma Software, a Norwegian developer of business management software solutions, leased 4,200 sqm in UBC 3. Moreover, the construction works for UBC 0, the tallest building in Romania (155 meters and 27 floors) are scheduled to commence early next year.
Upon completion of the first phase of the Openville project, in the fourth quarter of 2018, the office component will include a 50,000 sqm area in operation (in the UBC 1, UBC 2 and UBC 3 buildings) and another 50,000 sqm pending construction (in the UBC 0 building).
An office building integrated in a mixed-use project
The newly opened building comprises 12 floors and the companies that leased premises in UBC 1 include Atos (6,000 sqm), an international provider of IT services, and Intel (2,400 sqm), worldwide tech manufacturer. In addition to the class A facilities, UBC 1 stands out in the urban landscape of Timişoara by virtue of its architecture, as the building is triangle shaped, as well as direct access to the park and the new retail areas that are to be fitted in the Openville project. The building was erected in accordance with green building standards and will benefit from LEED certification.
The Openville mixed-use ensemble combines modern office premises with services and shopping and leisure opportunities, thus allowing for effective time management. In their immediate vicinity, the employees have access to hundreds of stores, a food court area, restaurants, fitness center, multiplex cinema and numerous services ranging from public institutions where citizens can apply for passports or pay their taxes, banking facilities, kindergartens and medical practices, all the way to beauty salons, dry cleaners, travel agencies, etc.
Promotional offers for the employees in over 100 Iulius Mall operators
In addition to the time saving facilities provided by establishing a head office in a mixed-use project, such a decision also entails financial benefits. The employees in UBC benefit from a dedicated loyalty program, namely the "Partner Card", which provides them with discounts as high as 25 percent in over 100 operators in Iulius Mall. For lunch breaks, UBC employees benefit from discounts as high as 15 percent or business menus in restaurants and cafés. Promotional offers are also available in apparel, footwear and accessories' stores, and they go as high as 25 percent.
About Openville Timisoara
Openville Timişoara, the largest mixed-use project developed in the west of Romania, will be opened in Q4/2018, upon completion of the first phase of development that will include: 100,000 sqm of class A offices, 47,000 sqm of additional retail premises, a park spanning on 55,000 sqm, a traffic underpass and more than 1,500 new parking spaces fitted in a multilevel parking facility and in an underground parking lot.
The second phase of the Openville Timisoara project will entail the development of approximately 85,000 sqm of office spaces (in four other buildings) and 25,000 sqm of retail spaces, depending on the market demands.
The Openville project is developed by the IULIUS and Atterbury Europe companies, adding up to an estimated investment upwards of EUR 220 million.
Office: 100,000 sqm – 4 buildings (phase 1); 85,000 sqm – 4 buildings (phase 2)
Retail: 47,000 sqm (phase 1); 25,000 sqm (phase 2). Total (including Iulius Mall): 143,000 sqm
100 new locations, 450 stores per total
Restaurants and themed cafés overlooking the park
Suspended park spanning on more than 55,000 sqm
Parking spaces: 4,068 (underground and multilevel parking facilities)