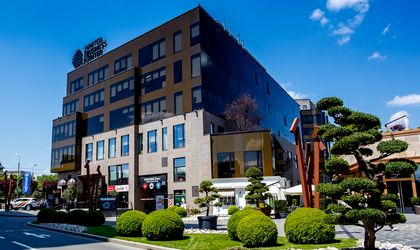 Iulius Group, reached an operational portfolio upwards of 106,000 sqm comprised in 9 class A buildings developed under the United Business Center (UBC) through the opening of the first office building within the Openville Timisoara project this January.
The largest developer of mixed-use projects in Romania, the Iulius Group is an active investor on the office premises market. Over the past 12 months the total office spaces increased by 42,000 sqm, as a result of the completion of two office buildings in the Palas Iasi project and the building in Timişoara. Also in Timisoara, the company is developing a total area of approximately 130,000 sqm in what is set to become the main business hub in the west of Romania.
This summer, the office portfolio will further increase by another 13,000 sqm when the second office building in the Openville Timişoara project is commissioned. Concurrently, this spring the Iulius Company will start the construction works for three new office building with a total area of 73,000 sqm, which are set to be delivered on the market within 12 to 18 months' terms.
Iulius currently owns six UBC office buildings in the Palas Iasi urban complex (70,000 sqm), two buildings in the vicinity of Iulius Mall Cluj (18,000 sqm) and another one in the Openville Timisoara mixed-use project (18,000 sqm).
The 9 buildings accommodate the head offices of more than 50 companies and provide modern workplaces for approximately 7,800 people. By virtue of the location in mixed-use projects, the people working here have access to a broad range of facilities: food court, restaurants, cafes, stores, green spaces, multiplex cinema, fitness center, conference halls, medical services, banking services, leisure options, as well as parking spaces.
At the same time, Iulius has implemented the Partner Card program in all the office buildings, which entitles the employees in the UBC buildings to special discounts that go as high as 30 percent in dozens of stores and service providers.
Designed in accordance with the LEED standards, the UBC buildings benefit from the implementation of sustainable operation policies geared towards improving the cost effectiveness of utilities and enhancing the tenants' comfort.
Georgeta Gheorghe