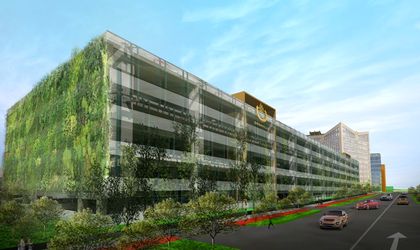 * six levels * over 900 parking spaces * € 11 million investment * 4,050 parking spaces across the entire project
The construction works have started for the first multilevel parking facility in Timişoara within the Openville mixed-use project developed by the IULIUS Company. Located near Iulius Mall, on the wing facing Calea Sever Bocu Street, the parking facility will be among the largest in the country, with a capacity upwards of 900 parking spaces.
IULIUS Company invested an estimated € 11 million, with the parking lot being set for completion this autumn. The parking facility will have a gross building area upwards of 23,000 sqm spanning on six floors: semi-basement, ground floor and four floors. In order to enable client access directly into Iulius Mall, the multilevel parking facility will be connected to the shopping center via a pedestrian overcrossing.
The building will be fitted with the latest access, signaling and detection technologies, as well as with elevators and video surveillance systems. The modern parking facility will also benefit from a smart management system that will guide motorists towards the available parking spaces.
Together with the existing parking spaces in the Iulius Mall underground parking lot, in the multilevel parking facility and the other ones that are set for fitting out, the Openville project will provide a grand total of approximately 4,050 parking spaces.
In order to maintain the optimal conditions for the clients of Iulius Mall Timișoara and in line with our commitment to environmental protection, the parking facility work site will be screened by special trees used for creating vegetation "screens" designed to block dust emissions and provide noise reduction.
About Openville Timişoara
Openville Timişoara is an investment of the IULIUS Company, adding up to over € 220 million. This will be the first mixed-use project developed in the west of Romania and it is set to become both a comprehensive lifestyle destination and the office market hub for the entire region.
The largest business, shopping and entertainment center in the west of Romania will include seven class A office buildings with a gross leasable area of 130,000 sqm, an additional 60,000 sqm of retail spaces, over 430 stores, restaurants and themed cafés, multiplex cinema, fresh market, four event halls, the largest playground and several other leisure options. In addition to this, the citizens of Timişoara will also have access to the largest suspended park in Romania, a green space spanning on over 55,000 sqm.