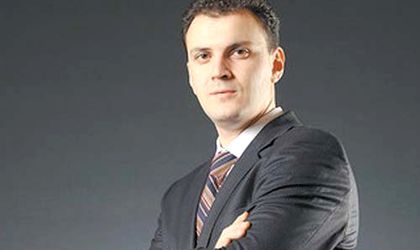 Sebastian Ghita, owner of local IT&C group Asesoft, has become the new manager of Realitatea Catavencu media group, pouring an estimate five-year investment of EUR 75 million into the company, according to realitatea.net.
The takeover is aimed to help the media group make the necessary efforts to move on to the HD technology. "On October 25 2010, our company has decided to take over the management of Realitatea Media group. Thus, Asesoft company, known both on the internal market, as well as on an international level, will support Realitatea TV's need to renew its technology in order to switch to high-definition transmission", is stated in an official press release quoted by Mediafax news wire. Sorin Ovidiu Vintu will remain a shareholder in the company
Sebastian Ghita (in picture) has declared that he intends to develop the media group regionally and that his new investment will be aimed towards profit, according to realitatea.net. Ghita, the 32-year-old businessman from Ploiesti, has an estimate fortune of EUR 35-38 million and has previously invested in the media, as he also owns Prahova TV, newspaper and radio station, as well as a news portal.
According to media reports, Asesoft group registered a turnover of EUR 300 million in 2009, 100 million over the figure registered in the previous year. The most notable company in the group is Asesoft Distribution, which registered a turnover of EUR 100 million last year (more about the company here and here).
Corina Dumitrescu