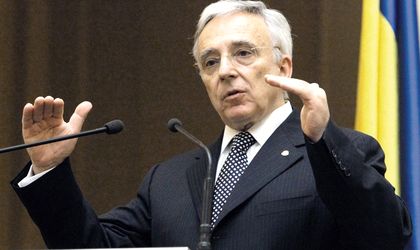 Romania registers economic growth but, by stimulating the demand and consumption, has created workplaces in other countries, taking into account that the demand was mainly covered from imports, which grew more rapidly than exports, says the governor of the National Bank of Romania (BNR), Mugur Isarescu.
"We have economic growth despite the annual index in negative territory and from the monetary policy perspective we kept the control margin, we have all the instruments, the interest, the corridor, the liquidity regulation, mandatory minimum reserves. However, we see that the demand and consumption stimulus have created workplaces in other countries. Currently the imports are growing more rapidly than exports, the demand is for imports, although it would have been batter if it had been stimulated through the growth of internal production. We are not against stimulus, but it's important to be carefully chosen, to have an adequate dosage and be applied at the right moment," said Isarescu within the annual conference of Financial-Banking Analysts Association from Romania.
In this context, he reminded of the necessity of keeping the macro-stability and the internal balance of the economy.
"We need to take care of it, because from it the sustainability derives, the durability of our development and obtaining of the wealth in world that confronts with many uncertainties and changes," said Isarescu.
Georgiana Bendre