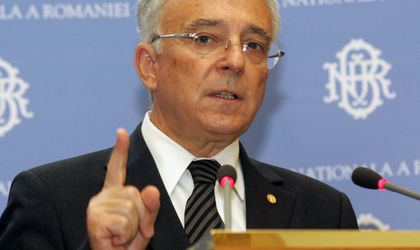 A big part of the banks' losses come from not grating loans, said this Tuesday the governor of the National Bank of Romania's (BNR), Mugur Isarescu.
"Banks cannot survive only from payment commissions or from currency exchange. They have expenses: offices, salaries, taxes and so on. If they don't give loans, their profit capacity is low," said Isarescu.
The governor said during the conference on annual report on the inflation that the companies level that are allowed to take loans is reduced, respectively 12,000 from 500,000, which says "a lot".
Isarescu also spoke about the non-performing loans, saying that in normal conditions, a bank doesn't need reasons to sell cheaper than it could actually sell.
"If it's about offshores, they have to be immediately fined," said the BNR governor.
The minister of finance stated recently that dozens of banks in Romania did not pay any profit tax in the last five years, adding that the state should look into this.