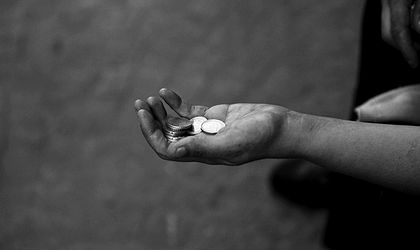 The number of Romanians receiving guaranteed minimum income dropped 13.4 percent between May 2017 and May 2018, to 205,007, as rapid economic growth creates jobs and reduces unemployment, but low social benefits could be the main reason for the limited number of people applying for state social welfare in Romania.
In May 2017, 236,779 individuals were receiving guaranteed minimum income, according to National Agency for Payments and Social Inspection (ANPIS) data, consulted by Business Review.
But the amounts paid to Romanian GMI receivers are very low even by local standards. The average sum paid in May 2018 to GMI receivers was RON 272 (EUR 58), down from RON 279 in May 2017, representing a small fraction of the average monthly income of the Romanian employees – RON 2,704 or EUR 583 in May 2018, according to official data.
The main reason for the decline of GMI receivers could be job creation and lower unemployment due to fast economic growth. Romania's GDP grew by 6.9 percent in 2017, the highest rate among the European Union member states.
Romania's unemployment rate fell to 3.48 percent in May, the lowest in 25 years, according to the National Agency for Workforce Occupancy (ANOFM).
At the end of May, 303,964 individuals were registered at local workforce occupancy agencies across the country but only 53,148 persons were receiving unemployment benefits.
Inherited poverty
But many experts point out these numbers don't show the true scale of poverty and unemployment in Romania.
According to the World Bank, Romania has the largest poor population in the European Union, over a quarter of its inhabitants living with less than EUR 5 per day.
"The limited integration of employment, education and social services prevents disadvantaged groups from escaping poverty. The provision of services is limited, especially in disadvantaged areas. Child poverty is high and rising," European Commission said in its latest country report on Romania.
According to EC data, the risks of poverty and social exclusion increased in 2016 in Romania, affecting 38.8 percent of the population and reversing a decreasing trend of several years.
The trend does not appear to improve, driven by increases in disposable income for all households except for the poorest 10 percent.
Worse, EC warns the poverty is actually rising in Romania and is often inherited.
"Poverty increased and income inequality remains high. (…) Unequal access to education, healthcare and other services, together with high inter-generational transmission of poverty, prevents children from disadvantaged areas or families from reaching their full potential. (…) Rural areas are particularly affected by inequality of opportunity due to poor infrastructure, insufficient employment opportunities and inexistent or poor quality public services," the EC country report said.
The European Commission experts point out Romania is among the countries which don't use efficiently social benefits to reduce poverty.
"The poverty reduction power of social transfers is still among the lowest in the EU and there is no objective mechanism to update social benefits," EC report said.
Guaranteed minimum income (GMI), or minimum income, is a system of social welfare provision that guarantees that poor citizens or families have a basic income sufficient to live on.
But in every country with such a system, including Romania, the GMI receivers should meet certain conditions.
In Romania, the GMI receivers have to fulfill community service, under mayor's surveillance, and are generally located in poor rural areas.