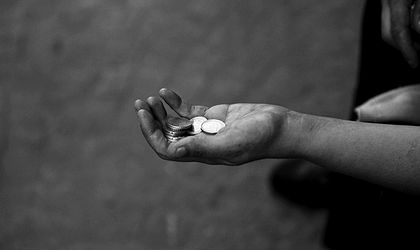 The number of Romanians receiving guaranteed minimum income dropped 12 percent in January year on year, to 219,719, as rapid economic growth creates jobs and reduces unemployment, but low social benefits could be the main reason for the limited number of people applying for state social welfare in Romania.
In January 2017, 249,187 citizens were receiving guaranteed minimum income, according to National Agency for Payments and Social Inspection (ANPIS) data, consulted by Business Review.
But the amounts paid to Romanian GMI receivers are very low even by local standards. The average sum paid in January 2018 to GMI receivers was RON 277 (EUR 60), down from RON 282 in January 2017, representing a small fraction of the average monthly income of the Romanian employees – RON 2,484 or EUR 534 in January 2018, according to official data.
The main reason for the decline of GMI receivers could be job creation and lower unemployment due to fast economic growth. Romania's GDP grew 7 percent in 2017, the highest rate among the European Union member states.
Romania's unemployment rate fell to 3.99 percent in January, the lowest in 25 years, according to the National Agency for Workforce Occupancy (ANOFM). The unemployment rate fell 0.03 percentage point from December.
At the end of January, 348,963 persons were registered at local workforce occupancy agencies across the country and 74,343 persons were receiving unemployment benefits.
Inherited poverty
But European Commission experts point out these numbers don't show the true scale of poverty and unemployment in Romania.
"The limited integration of employment, education and social services prevents disadvantaged groups from escaping poverty. The provision of services is limited, especially in disadvantaged areas. Child poverty is high and rising," European Commission said in its latest country report on Romania.
According to EC data, the risks of poverty and social exclusion increased in 2016 in Romania, affecting 38.8 percent of the population and reversing a decreasing trend of several years.
The trend does not appear to improve, driven by increases in equivalised disposable income for all households except for the poorest 10 percent.
Worse, EC warns the poverty is actually rising in Romania and is often inherited.
"Poverty increased and income inequality remains high. (…) Unequal access to education, healthcare and other services, together with high inter-generational transmission of poverty, prevents children from disadvantaged areas or families from reaching their full potential. (…) Rural areas are particularly affected by inequality of opportunity due to poor infrastructure, insufficient employment opportunities and inexistent or poor quality public services," the EC country report said.
Low power of social transfers
The European Commission experts point out Romania is among the countries which don't use efficiently social benefits to reduce poverty.
"The poverty reduction power of social transfers is still among the lowest in the EU and there is no objective mechanism to update social benefits," EC report said.
Guaranteed minimum income (GMI), or minimum income, is a system of social welfare provision that guarantees that poor citizens or families have a basic income sufficient to live on.
But in every country with such a system, including Romania, the GMI receivers should meet certain conditions.
In Romania, the GMI receivers have to fulfill community service, under mayor's surveillance, and are generally located in poor rural areas.
Why paying the poor
But the number of GMI receivers is very low in Romania compared with other European Union member states. In France, around 1.8 million people are receiving 'Revenu de solidarité active' (RSA), the French equivalent for guaranteed minimum income.
France's RSA is EUR 545 for a single person, an amount attractive enough for the poor people to come face-to-face with bureaucratic administration in order to receive it.
Rich countries generally can afford to pay high social benefits, and the system of social welfare is expanding rather than declining. Finland is now experimenting a new concept: paying an unconditional income to all citizens, whether or not they're in work.
The Finnish government selected 2,000 unemployed people who will receive a guaranteed sum, or 'basic income', of EUR 560 a month for two years.
Finland's experiment is a variation on the idea of a universal basic income, which owes its roots to Thomas Paine, who in 1797 proposed paying all 21-year-olds a grant funded through a tax on landowners.
Some economists even propose now to expand worldwide the universal basic income.
'We propose a minimum income for everyone as a fixed proportion of gross national income – Universal Basic Share (UBS). The scheme can thereby be introduced in all countries, poor as well as wealthy. It would function in India equally well as in Norway,' says Kalle Moene, director of the Centre for the Study of Equality, Social Organization and Performance at the University of Oslo (ESOP), and his Indian-American colleague, Debraj Ray, who is affiliated to the Centre, quoted by Phys.org.
But this social welfare system never gained much political traction in Romania, where social benefits' receivers are considered by many to be lazy, unwilling to work and a burden for the tax payers.
"The entry into force of the Law on minimum inclusion income that would increase the adequacy and coverage of social benefits was postponed again to 2019," EC experts said in the country report.