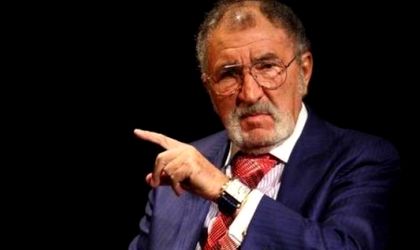 Businessman Ion Tiriac is the richest Romanian in 2016, with a wealth of EUR 1.6-1.65 billion, a growth of 8.3 percent compared with the last year, when his wealth was evaluated at EUR 1.5 billion according to the 15th edition of Top 300 The richest Romanians.
The accumulated wealth of the richest 300 Romanians is EUR 21.7 billion, which is 4.2 percent higher than the level registered in the edition of the last year of the ranking, according to news.ro.
A growth of 20 percent was registered at the minimum level for a place in the ranking. In the previous edition the level was at EUR 16-18 million and now it reached EUR 20-21 million.
On the second places are the Paval brothers, who own the DIY network Dedeman, with a wealth of EUR 920-950 million, recording a growth of 6.8 percent than 2015.
The third place is occupied by Ioan Niculae, who recently got out of prison and who once was considered the richest Romanian. He has a wealth of EUR 600-700 million, a drop compared with 2015, when his wealth was estimated at EUR 750-800 million. Through his company, Niculae manages approximately 50,000 hectares of agricultural fields and is the owner of the Astra Giurgiu football team.
Zoltan Teszari, the owner of RCS&RDS, has a wealth estimated at EUR 500-520 million, with a value that went up compared to last year and occupies the fourth place.
On the following places are Iulian Dascalu, with a wealth of EUR 450 million, Gruia Stoica and Vasile Didila (EUR 380-400 million), Cristescu brothers (EUR 350-360 million), Gabriel Popoviciu (EUR 340-360 million), George Becali (EUR 280-300 million) and Radu Dimofte (EUR 270-290 million).
The methodology of wealth calculations of every billionaire took into account the balance sheets of companies each person controls, shares, real estate assets, the money from their bank accounts the investments in art or other goods such as jewelries or cars, according to the ranking's authors made by Capital magazine.
Georgiana Bendre