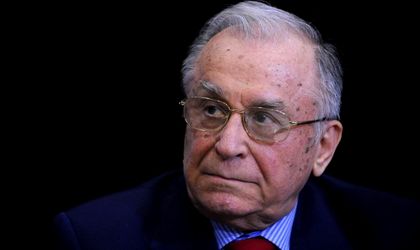 Former Romanian president Ion Iliescu has been indicted in the Revolution case, along with former vice prime minister Gelu Voican Voiculescu, who was part of the judging panel that ordered the execution of the Ceausescu couple, and two other major figures in the days of the Romanian Revoltion.
Ion Iliescu, Gelu Voican Voiculescu, Iosif Rus and Emil Dumitrescu were all charged today with crimes against humanity.
Prosecutors wrote that "due to a general psychosis of terrorism, numerous situations of fratricidal violence, chaotic shooting and contradictory military orders were created. In this context, between December 22 and 30, 1989, approximately 12,600,000 rounds were shot."
As a result of these events, 862 people dies, 2,150 were injured, hundreds were detained and others were psychologically traumatised. "These tragic consequences were much more serious than the repression exercised between December 17 and 22, 1989," the prosecutors claim.
According to the prosecutors, Ion Iliescu and Gelu Voican Voiculescu "directly misinformed through their televised appearances and press releases (contributing to a general psychosis of terrorism), took part in the diversion created in order for the Ceausescu couple to be executed and accepted diversionist acts carried out by individuals with leadership positions in the Defence Ministry, and did not intervene to stop them."