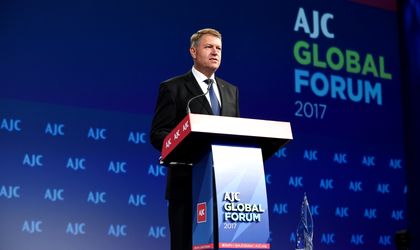 Romania, as a member of NATO and the European Union, is one of the strongest transantlantic pillars from EU, said president Klaus Iohannis at the American Jewish Committee Forum.
"We have to maintain and consolidate its power against the challenges that Europe and USA confront with. Both Europe and America need this, no matter if it's about EU- USA relation or what we have to do in NATO. Europe currently confronts with multiple crisis without precedent-extremism, nationalism, populism, xenophobia, racialism, anti-Semitism and discrimination- that threaten the democratic societies," said Iohannis.
According to him, the challenges disrupt the European project and lead to distrust, resignation, scepticism and lack of solidarity.
"I share these with you because the USA needs that EU, as strategic partner, to be strong and united. The EU security, of the entire Europe, it's very relevant for USA's security. This is how it was and how it will be. In this context, I can ensure you that we'll be one of the strongest transatlantic pillars in the EU. The transatlantic connection will continue to be our strongest guarantee for security, fundamental freedom and prosperity," added Iohannis.
The chief of the state also talked about the excellent military cooperation with USA and about the potential in other fields of the bilateral cooperation.
"Hosting the Aegis Ashore system from Deveselu in Romania is one of the most important projects of the strategic partnership. Romania, which had the highest economic growth from EU in 2016, meets the companies and investments from USA offering a secure and opened environment," concluded Iohannis.
The Romanian president received the distinction Light Unto the Nations from the AJC. President Iohannis will meet with US president Donald Trump on Friday.