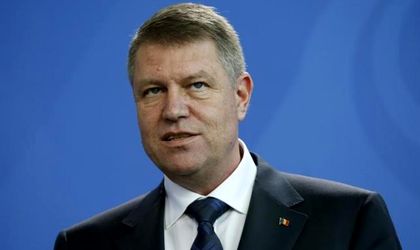 President Klaus Iohannis urged ambassadors on Wednesday to draft a plan to deepen and expand the Strategic Partnership with the United States, adding that "it represents an essential pillar of Romania's foreign and security policy," alongside the objective to contribute to the consolidation of NATO and the European Union.
In his speech, President Iohannis recalled the fact that that the Strategic Partnership with Washington will turn 20 years old next year. "It's an opportunity to reflect seriously on what we can do together with our American partners to deepen and expand it," Iohannis told general consuls and directors of Romanian cultural institutes at the Annual Meeting of the Romanian Diplomacy. "Please develop a work plan to this purpose – with a view to prepare the interaction with the incoming US administration – to target the intensifying of cooperation in the field of security, including the implementation of decisions of the NATO Summit in July, increasing economic cooperation and investment, on research, innovation, education and, not last, tangible progress on visa liberalization," President Iohannis said.
The Romanian head of state pinpointed that significant steps have been made in developing the Strategic Partnership, especially in the fields of political and military cooperation. According to Iohannis, the fact that Romania is today a safe and predictable country is a volatile region is a tangible reality, president Klaus Iohannis said on Wednesday at the meeting with Romanian diplomats. "Romania is a pole of stability and predictability in a difficult context of vicinity," Iohannis added.
The Romanian head of state also asked Romanian diplomats to promote the Romanian model of protection of national minorities and to act towards obtaining a similar level of protection for Romanian communities abroad.
Georgeta Gheorghe