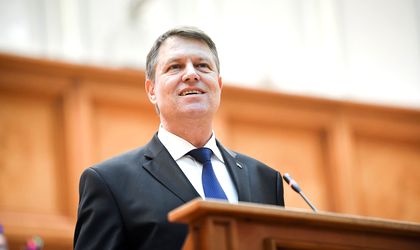 Romania must aim high as a free nation, and not become captive to its politicians' lack of vision, said president Iohannis today at the Parliament. He told MPs that there was still time for them to pull back the laws that do not have the people's support and don't meet European standards.
"The laws are doing harm to Romanian society and I urge you not to go forward with them. It is your responsibility to ensure good lawmaking in an open and transparent debate framework, so that the decisions made here are tailored to the real needs of society. There is still time to pull back laws that neither have the support of the Romanian people nor do they meet the European standards. Don't play with all the effort and sacrifices made by Romanians, which have helped them gain respect in the EU, don't harm Romanian society by going forward with justice laws and changes to the criminal code that are incongruent with a real democracy.. There are so many problems awaiting a solution, on which Romanians want you to focus, from improving the performance of big public systems to making the public administration more efficient and upgrading infrastructure," said Iohannis.
The president added that the question politicians had to answer is whether they would continue to promise a lot and deliver very little. The answer to this question ultimately mirrors the Romanian political class.
"It's time for the political and governmental majority to understand this. We're celebrating the Centenary at a tumultuous time for Romanian society, and some populist, demagogic and manipulative approaches have caused discord and have affected the unity that should have defined our celebration of a century-old dream. The nation's spirit is still alive and has been manifested in the relentless opposition our citizens have shown to all the attempts to endanger the principles and values that were at the foundation of the Great Union. To be a Romanian means to be an European, and this means much more than the historical or geographical meaning of the word – it means being part of a community that values liberty, solidarity, human dignity, democracy, and the rule of law. These things are part of the national identity and nobody ever has the right to question them," the president stated.