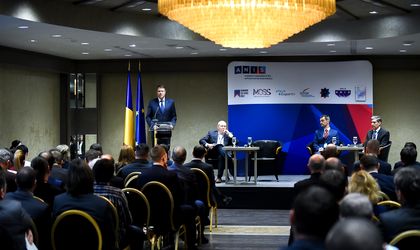 Romania's IT sector could post a EUR 5 billion in revenues in 2020, President Klaus Iohannis stated on Tuesday in Iasi. The Romanian president attended the debate "The new Iasi. The capital of Moldova as a major technologic growth pole of Romania."
According to the Romanian president, IT is a sector with major implications on the development of Romania. "Current data shows that the industry you are representing is contributing significantly to the development of certain urban centers in Romania," Iohannis told participants. "The IT sector exceeded EUR 3 billion, with a very high annual growth, above average. There are grounds so that until 2020 the IT sector can get closer to EUR 5 billion, if we will continue to support innovation, and R&D," Iohannis stated.
The city of Iasi, Iohannis said, can become Romania's Silicon Valley. Moreover, he argued, the development of the IT industry in the area will have a profound impact at community level, from the standard of living to a change in mentalities.
"I was keen to come here today, especially to give a message of support to this new Silicon Valley that Iasi, the new Iasi, as I called it. Iasi is, alongside cities such as Bucharest, Cluj and Timisoara, one of the main IT hubs in the country. If these big centers have the chance to become success stories in the future, on the back of the development of the IT industry, then all regions will profit. An industry that is growing with such strength brings benefits including to the authorities," Iohannis said.
Georgeta Gheorghe