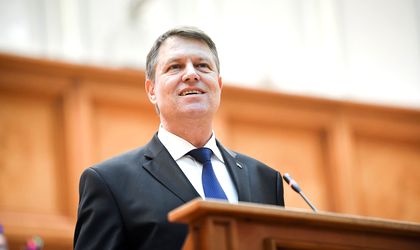 President Klaus Iohannis said in a speech in Parliament, on Europe Day, that Romania is not a second tier member of the European Union.
Iohannis said that he is glad that 10 years after joining the EU, Romanians remain attached to the values that define the Union and are willing to take the European integration process further.
"We have certain barriers at an internal level (…) We are not a second tier member of the EU," said the head of state.
Talking about the massive street protests from February, Iohannis mentioned that there is a new generation emerging that is interested in freedoms, rule of law and democracy.
"It is the role of the political class to listen and understand their voices, and to use them based on a trust relation between politicians, institutions and citizens, which is right for the European status of Romania," said the president.
"An authentic democracy can't work without a strong Parliament. A modern Romania can't develop without a coherent legal framework. Your mission is essential for the country's progress," Iohannis told MPs on May 9, when the Independence Day is also marked in Romania.
Two days from now, the president of the European Commission, Jean-Claude Juncker, will also speak in the Romanian Parliament about the future of Europe.