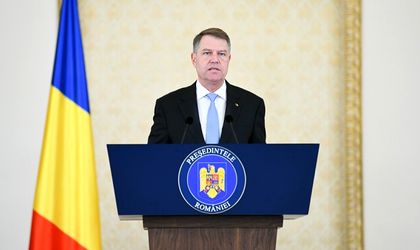 President Klaus Iohannis spoke today at a meeting with foreign ambassadors in Bucharest, saying that Romania needs a mature and strong state that supports liberal democracy and the rule of law.
The president added, "2018 is truly the best moment to reflect deeply and act wisely for the nation's present and future. It is the moment to adopt our legitimate country project, meaning our development model and the roads we will follow, internally and externally, in order to achieve it. Only such a project can adequately respond to the risks Romania is facing, both internal and external, which come from our complicated vicinity.
In order to ensure our present and our future, we need to respond to risks with a state that performs, a strong Romania, a state where liberal democracy and the rule of law are completely consolidated with an independent and efficient justice, a state which acts in the name of all its citizens, capable to offer them prosperity and safety. We have a mature society which has already proven it is capable to fight in an admirable way for the values in which it believes, but this mature and active society needs a state that can match it".
Iohannis also said that the three pillars of Romania's foreign policy are the strategic partnership with the USA and the EU and NATO memberships.
The president reaffirmed Romania's decision to stay close to the core of the EU and rejected any attempt at "regionalisation" in the debate regarding the EU's future – a reference to countries like Hungary or Poland trying to find a common position for the states in Eastern and Central parts of the EU in the political conflict with older member states.
"Romania can be the eastern pillar of the EU. There can be no alternative to this option to join the EU's core. Any other version of regionalisation is fundamentally against Romania's interests and aspirations", said Iohannis.