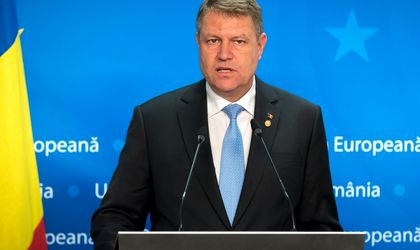 Speaking at the conference "Competitive Romania," at the launch of Romania's economic development strategy, President Klaus Iohannis warned that the new economic development model must rethink the relationship between the state and its citizens. Specifically, the Romanian head of state said that "clientele of any kind" must be "cut off from public money by stemming corruption and reducing bureaucracy."
"It is more opportune than ever, a decade after joining the EU, to work on a country project," Iohannis said, adding that the country project must envision a sustainable economic development and a responsible governing. According to Iohannis, this is not the first time authorities have drafted such a strategy, but none of them caught steam. "We all know that in Romania all kinds of strategies were made, but a lot of them remained on paper (…), but here I refer to more than a list of economic measures, I refer here to measures that can take shape or not, depending on our approach, a strategy, I refer to a development model that Romania is now compelled to think about."
Klaus Iohannis criticized "the burden of bureaucracy and corruption" and called for more transparency and predictability.
"The strong Romania we want to build," Iohannis said, "entails making good use of the competitive advantages that we have at our disposal, and here it is not only about the economy, but also about Romania's opportunities as a country in a regional and European way. To this purpose, I ask the Government to the economic strategies and policies with the European dimension needed in the present context," Klaus Iohannis said.
The government launched for debate "Competitive Romania," Romania's strategy for economic development on the medium and long term.
From an economic point of view, "we need a healthy vision, a long term one, that can bring Romanians sustainable prosperity. What we build must be durable," Iohannis argued.
Georgeta Gheorghe