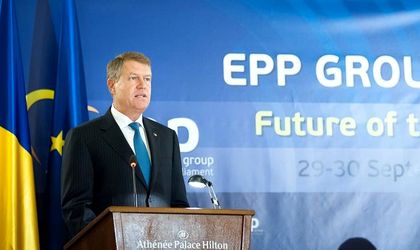 It is in the common interest of both the EU and the UK to maintain a relationship that is as close as possible post-Brexit, Romanian President Klaus Iohannis argued on Thursday at the Board Meeting of the European People's Party (EPP) in Bucharest.
The Romanian president also stressed that post-Brexit negotiations must be carried in accordance with the provisions of the Treaties and within the framework agreed upon at the June 29 European Council reunion, respectively on the principle "no negotiation without notification." Moreover, Iohannis argued that the access to the free market is conditioned by the acknowledgement of the four freedoms. "One must fully acknowledge the fact that access to the internal market of the Union implies the acceptance of the four freedoms", namely the free movement of goods, services, persons and the free movement of capital.
Iohannis also stated that "it is in the mutual interest that the EU and the UK maintain a relationship that is as close as possible post-Brexit. "It is important that the negotiation process be handled through inclusive dialogue, in a transparent, ordered, predictable manner," Iohannis told those present at the EPP event.
The Romanian president also expressed his support for the European project, which is currently facing a number of threats, including migration, terrorism, Brexit and, increasingly, extremism.
"For these we must find the most appropriate answers. (…) We believe in the Euopean project, which ensures peace, democracy and security of our peoples. (…) The EU is first of all a union of values. (…) The biggest mistake we can make is to make is to believe they are self evident, that ideologic and principle debates are no longer necessary. We all who believe in freedom and human dignity, democracy, the rule of law, who value respect for traditions, but also solidarity and tolerance cannot allow for a crisis of values, we cannot risk for a moment that they be questioned. I believe it is a challenge and, at the same time, an objective for the new generations of political leaders, especially for the main European families, to maintain and to cultivate the attachment of citizens for the European project," Iohannis said.
Georgeta Gheorghe