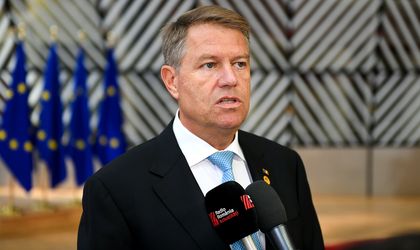 Three of the major objectives pursued by Romania at the NATO Summit in Brussels have been achieved, Romanian president Klaus Iohannis said in a post-summit statement. Referring to the dispute between Germany and the US, he defended the US president's stance, saying that "he was not aggressive. He simply called things by their name."
According to Iohannis, the first objective is a three star command centre, an operational command centre "between the lowest and highest tactic level, an important centre." We believe that at the end, when the centre is finalised, we will have around 400 staff officers from all NATO countries that want to be together with us there," Iohannis said.
The second achievement is the "upgrading" of the status of the Multinational Brigade, which has acquired a permanent status, Iohannis added. "We will continue to negotiate with other allies for a stronger presence in this Multinational Brigade. Here are two results that we can be proud of, " the Romanian head of state said.
"A third, also very important result is that a whole session was practically organized at our initiative.  This is the session dedicated to the Black Sea, which took place in the presence of the allies, with guests from Georgia and the Ukraine (…) This is the approach that I started in 2015 to put the Black Sea, the Black Sea region on the NATO map, which I succeeded with, I can say. Meanwhile, there are plans for the Black Sea region, there is an intense NATO approach, there is a very good ally presence in the Black Sea area. All of this we have obtained with great persuasion, " added the president.
"NATO's position was reinforced at this Summit," the Romanian head of state concluded.
A 'very special session' on defence spending
As for the countries' defence spending, "Romania, for example, has reached 2 percent since last year. The United States stand at around 4 percent on defense spending. But we have allies who, even today, have budgets below 1 percent of GDP for defense. And then, rightly, in a very harsh way, what we called new burden sharing, so sharing tasks or contributions, was put in question. And that was the special session. (…) We came to optimistic conclusions. More allies, who are still far from 2 percent, have pledged to increase their defense spending, they are committed to reaching as fast as 2 percent, "the president said.
Merkel vs. Trump
The Romanian head of state also referred to the US-Germany controversy on defence assignment, arguing that there is no conflict between the two countries. In Iohannis' view, US President Donald Trump has said things by name. "President Trump did not initiate a conflict; he was not aggressive. He simply called things by their name, as is normal between friends and allies. Things have been discussed and we parted with a clear understanding that NATO is united, unique, it is the most powerful military alliance that ever existed on earth and that we are going together. But together, we are committed to spending a little more to make NATO even stronger, including Germany, " he said.