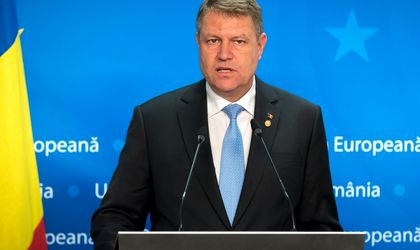 President Klaus Iohannis told Italian investors gathered in Bucharest for a Romanian-Italian business forum to trust the Romanian economy and stressed that progress made by Romania in the fight against corruption is reflected by the country's economy. Italy is Romania's second-largest trading partner.
Speaking at the Business Forum Italian Investments in Romania – A European route in the global economy, the Romanian president welcomed the presence of a great number of Italian companies on the local market. "Apart from the large number of Romanian investors in Romania, who bring here the dynamism of Italian entrepreneurship, I want to salute the presence on the Romanian market, through major projects, of major Italian companies. Equally gratifying is the fact that Italian entrepreneurs are showing an increasing interest towards traditional economic sectors, such as industry and agriculture, as well as towards new sectors, such as services, banking and IT. There is further potential for developing tourism, green economy, and Romania's competitive advantages and our geo-strategic positioning are strong arguments for involvement in major energy projects, with regional and European relevance. We want to encourage more Italian investments in our country," Iohannis stated, before urging those present to "trust Romanian economy."
The head of state also assessed the potential for growth of the country's economy and stressed that the outlook is positive. "The Romanian economy is undergoing a process of consolidation, of multiplying and diversifying business opportunities. For Romania, 2016 will be the year of robust growth, of over 4 percent, one of the highest economic growth rates in the European Union," Iohannis added.
Iohannis also pointed to areas where Romania still needs to improve in order to foster economic growth, with a focus on reducing bureaucracy and overall, providing support to investors. "It is not only the size of taxes that is important, but also the burden of bureaucracy, the rule of law, the time and costs [spent] on obtaining approvals and authorizations. Politics destined for the business environment need structural solutions, to bring transparency, predictability and competitiveness," the head of state added.
In addition, the Romanian president addressed the topic of corruption and pointed to the progress made in countering it. "It is obvious that the economy is getting healthier", spurred by progress in tackling corruption. "As Romanian president, I renew my personal commitment towards continuing the fight against corruption," the Romanian president added.
Georgeta Gheorghe